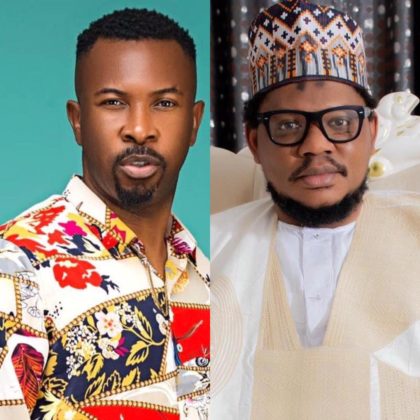 Seyi Law and Ruggedman, Nigerian entertainers, have tackled Adamu Garba, former presidential candidate, for backing the federal government's suspension of Twitter in the country.
The government had announced the indefinite suspension of the social media service on Friday due to "the persistent use of the platform for activities that are capable of undermining Nigeria's corporate existence."
The development has continued to spark widespread outrage, with many Nigerians, including celebrities, condemning the move.
But Garba, who had on numerous occasions called out Twitter, had backed the suspension of the microblogging site.
In an Instagram live session hosted by PepperRoom, a reality TV, the former presidential aspirant joined Ruggedman and Seyi Law to discuss the government's Twitter ban.
During the session, Garba described Twitter as an "insurrectionist tool" for fuelling unrest in Nigeria rather than being a platform for freedom of expression.
He also maintained his earlier stance that the suspension of the US-based social media service was a welcome development.
"Twitter is not a social media app, Twitter is an insurrectionist tool that is aiding and abetting Nnamdi Kanu and his terrorist IPOB commanders to be able to destroy the Nigerian space. Twitter has long ceased to be a social media platform of freedom of expression," he said.
He added that there's a need to regulate the use of the social media service in Nigeria.
"What we need to do is to make them regularise it. Ask them to come and regularise, register in Nigeria, have an office in Nigeria, have an address, and pay Nigerian tax."
But reacting, Ruggedman, whose real name is Michael Ugochukwu, faulted Garba's position, noting that the suspension has left many people unemployed.
Advertisement
The rapper also said that the suspension has made it difficult for the citizens who depend on the platform to share experiences about irregularities in the society.
"Now we have thousands of young innocent Nigerians who did not do anything wrong but because of what happened in the street are in the police custody," he said.
"Right now, we have thousands of young innocent men and women in cells being extorted and can't do anything about it. Did anybody think about it? Now we have thousands of Nigerians who on a normal day have accidents and things that happen on the streets and the fastest way they can get help is through Twitter."
On his part, Seyi Law argued that the suspension of Twitter was a violation of the constitution, adding that Lai Mohammed, minister of information, lacked the power to announce such a directive.
"The minister of information had no authority to make law in this country constitutionally. And secondly, even if there was going to be a ban, or probably should have been an executive order which it wasn't," he said.
The comedian said it is unfortunate that the government was more interested in banning Twitter rather than address major issues facing the country.
He alleged that Adamu's support for Twitter's suspension was to get more users for Crowwe, his instant messaging and financial transaction app, in the country.
"Don't act as if you don't know, because the ban will favour your own app, that's the most selfish way to go. We can't monopolise your app in this nation," he said.
Advertisement
"We know what monopoly has caused in other nations…if you want to market your app, do that and ensure it's working. We must allow fair dealings. We should not sit down and be justifying wrongs with another wrong."