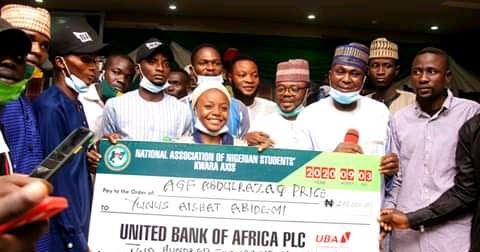 A Graduate of Mass Communication from The Federal Polytechnic Offa, Kwara State, Miss Yunus Aishat has won the sum of two hundred and fifty thousand naira (N250,000.00 ) in Kano State NYSC orientation camp during an Access Bank Entrepreneurship contest.
The contest tagged #Accesspreneur received about 30 corps members as participants from various platoons while each participant was given the podium to defend the proposal submitted for the contest.
According to information made available by a reliable source at the Orientation camp, each platoon has three representatives which sum the representatives to the total number of thirty (30) from ten (10) platoons.
The bank further screened the representatives and selected top ten (10).
The source further said she was in number three (3) with best proposal out of the top ten that were selected, she was eventually the only person that qualified from her platoon. It was very competitive and they selected based on merit.
Aishat who came fourth said the the winner won 1million naira, the 1st runner-up won seven hundred thousand naira ( #700,000.00), 2nd runner-up won four hundred thousand naira (#400,000,00) and she won two hundred and fifty thousand naira ( #250,000.00) as the 3rd runner-up respectively.
Speaking further, she said the money was awarded based on the proposal submitted by each representative after thorough scrutiny.
Recall that Aishat Yunus as an undergraduate of The Federal Polytechnic Offa won the sum of two hundred thousand naira ( #200,000.00) as the winner of National Association of Nigerian Students ( NANS) Entrepreneurship contest organised for tertiary institutions in Kwara State in 2020.
She acknowledged the Management of The Federal Polytechnic Offa led by Dr. Lateef Olatunji for creating enabling environment for best tutelage in entrepreneurship development. She said The Federal Polytechnic Offa remains the best in Nigeria as graduates of the institution are well groomed in learning and character.